Wooden gates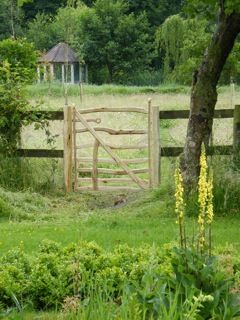 The gates I make come in an ever-increasing range of styles and sizes and can be loosely grouped into garden (or pedestrian) gates or entrance gates. As with most things I produce, they are all made to order so can be tailored to fit a specific space. The majority of the gates are made using locally sourced English hardwoods, especially oak and sweet chestnut. Both woods are renowned for their durability outdoors without the need for artificial preservatives.
Styles of handmade wooden gates
The present range of gates listed below is designed to complement the styles of rustic fencing I make and can usually be made as either garden or entrance gates:
Cottage gate
Minorcan gate
Leaf gate
Chestnut paling gate
Cleft chestnut infill gate
Entrance gates
Unique wooden gates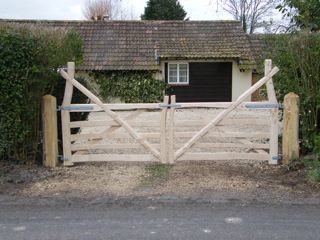 Even though a gate may be one of the above styles, each one is treated individually, with deviations from those that have gone before; sometimes a small detail, at other times a more radical change. I am constantly modifying both my technique and my design solutions in an attempt to improve the finished article.
Gate installation
I am happy to provide a full gate installation service should you require it, or can simply supply the finished gate for you to install yourselves.
Gate posts
As part of the whole design solution, I make gate posts to match the style of each particular gate; be they a sawn and planed oak post for a formal entrance gate or a rough sawn and shaped oak post for a rustic cottage garden gate.
For a better idea of my gate range please go to the side gates or entrance gates pages or visit the gallery.